TCDG Advent Retreat
December 1, 2018 @ 9:00 am

-

3:30 pm

EST
Advent Retreat Date: December 1, 2018
Topic:
Infinite Longing: The Search for a Deeper Friendship with Christ
Subtopics:
(a) Intentional Discipleship;
(b) Foundations of Prayer;
(c) Discernment of Spirits;
(d) Sent on Mission: Living Out the Call to Evangelization.
This retreat is intended for physicians and trainees from all Ontario, and hopefully beyond. We cannot give what we don't have. As Catholic physicians, we aim to help our patients, body and soul. To do this, we draw closer to the Divine Physician, Christ Himself. Let us follow the Master's advice to "come away" to rest, to spend time with Him, to learn from Him and re-define our mission. This is a great opporunity to invite a colleague. Babysitting can be arranged if needed.
Schedule:
December 1st, 2018, approximately 9:00am to 3:30pm.
Tentative schedule:
Mass – 9:00 am with the regular congregation;
9:30 am to 9:45 am – transition time to first talk (15 minutes);
9:45 am to 10:30 am – first talk (45 minutes);
10:30 am to 10:45 am – break (15 minutes);
10:45 am to 11:30 am – second talk (45 minutes);
11:30 am to 1:00 pm – lunch and fellowship (90 minutes);
1:00 pm to 1:45 pm – third talk (45 minutes);
1:45 to 2:00 pm – transition into church (15 minutes);
2:00 pm to 3 pm – Holy Hour (60 minutes) with Exposition/Benediction; and
3:00 pm – final remarks by TCDG exec.
Retreat Director: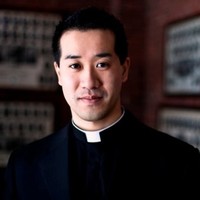 Fr. Eric Mah
Fee:
There is no mandatory fee. Donations are encouraged to help offset the cost of organizing this retreat and to support the parish that is welcoming us so generously.